Unwind From Class with These Shows
Read Time:
3 Minute, 32 Second
By: Maria Alcantara
I don't know about you, but blowing off steam with a binge-worthy show has become a necessity during my studies at Rutgers.
While I never seem to reach the end of my TBW list, there's no harm in adding more content, right?
Here is a list of shows that will keep your mind off schoolwork for a little while and keep you in the know on what everyone's talking about these days!
List of things to watch to unwind after class: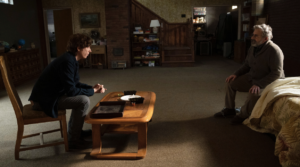 The Patient 
(Drama | Mystery | Thriller)
The Patient is a psychological thriller consisting of ten episodes and available on FX for Hulu. It was created by Joel Fields and Joe Weisberg and stars The Office's Steve Carrell alongside Domhnall Gleeson.
Steve Carrell plays a psychotherapist named Alan Strauss who recently lost his wife. As these 20-minute episodes progress, he finds himself held prisoner by one of his patients who happens to be a serial killer with an unusual request to help curb his homicidal urges.
2. Partner Track 
(Drama | Romance | Heartfelt)
Partner Track is a legal television drama series consisting of 10 episodes and available on Netflix. It was created by Georgia Lee and is based on a 2013 novel of the same name. The Leading roles are played by Arden Cho and Dominic Sherwood.
The show centers on Ingrid Yun, a young idealistic lawyer who struggles with her moral compass and her passion while fighting to climb the partner track at an elite New York City law firm. It is not only a fun light watch but also portrays powerful modern-day microaggressions in the workplace.
3. Cyberpunk: Edgerunners 
(Action | Animation | Adventure)
Cyberpunk: Edgerunners is one of Netflix's newest animated series created by Rafal Jaki and stars Zach Aguilar, Emi Lo, Stephanie Wong, and Alex Cazares. 
This 10-episode show features a street kid trying to survive in the tech and body-modification-obsessed city of the future. Having everything to lose, he chooses to become an Edgerunner, a mercenary outlaw also known as a Cyberpunk.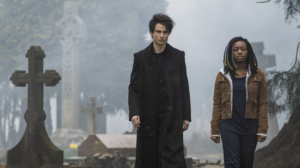 4. The Sandman 
(Drama | Fantasy | Horror)
The Sandman is a Netflix television series produced by DC Entertainment and Warner Bros. It is based on the 1989 DC comic book by Neil Gaiman of the same name and stars Tom Sturridge and Game of Thrones Gwendoline Christie.
This 11-episode 2022 series centers on Morpheus, the King of Dreams, who escapes decades of imprisonment and embarks on a journey across worlds to recover what was stolen from him and regain his power.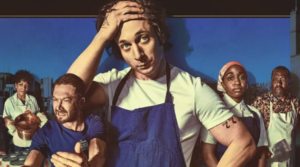 5. The Bear
(Comedy | Drama)
The Bear is an 8-episode Hulu original dramedy series created by Christopher Storer. Starring Jeremy Allen White, Ebon Moss-Bachrach, Ayo Edebiri, Lionel Boyce, Liza Colon-Zayas, and Abby Elliot, the series has received much critical acclaim.
The story follows a young chef from the fine dining world who returns to Chicago to run his family's sandwich shop. The Bear is about food, family, the insanity of the grind, the beauty in sense of urgency, and its steep slippery downsides.
               6. The Dropout
(Biography | Drama)
The Dropout is an ABC production consisting of just 8 episodes and starring Amanda Seyfried. This miniseries was created by Elizabeth Meriwether and is based on the podcast "The Dropout" hosted by Rebecca Jarvis.
The story chronicles Elizabeth Holmes' wacky story going from college dropout to tech mogul after founding the now disgraced biotechnology company Theranos and attempting to revolutionize the healthcare industry.
                     7. Next Level Chef
(Reality TV | Cooking Competition)
Next Level Chef is an 11-episode reality television series that premiered earlier this year on Fox. Hosted by renowned chefs Gordon Ramsey, Nyesha Arrington, and Richard Blais, contestants compete with the help of their mentors for the coveted title of "Next Level Chef."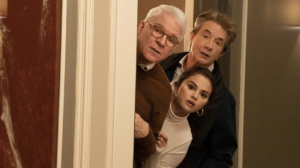 8. Only Murders in the Building
(Comedy | Crime | Drama)
Only Murders in the Building is a Hulu original television series in its second season, created by Steve Martin and John Hoffman and consisting of just 10 episodes in the first season. 
This show follows three strangers, one of whom is played by Selena Gomez, who share an obsession with true crime so much so that they find themselves caught up in one.