Editor-in-Chief: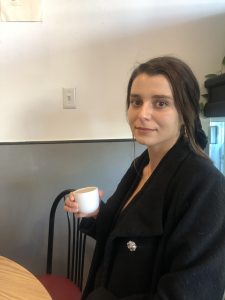 Doris Zheku is an English Major and Gender Studies and Writing Minor. She will be graduating from Rutgers-Camden next fall and is interested in pursuing a career in the fields of journalism and publishing. She came to be Editor-in-Chief of The Gleaner during the pandemic when everything was forced online and has been navigating this transition to online platforms with the help of her amazing staff and faculty advisor. Doris has previously served as a writer and Social Media Manager for The Gleaner and hopes to grow the organization as much as possible before she graduates.
Managing Editor: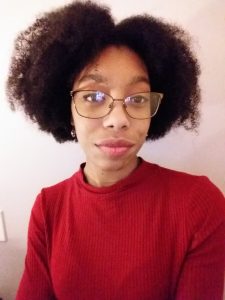 Dionna Murray is an English major and Digital Studies minor. She is currently a senior and hopes to pursue copy-editing after graduation. She also has a heavy interest in music and started her own blog about it. For The Gleaner, she tends to write either commentary pieces or about campus activities.
Social Media Manager: 
Arielle Champion is currently a sophomore majoring in English at Rutgers-Camden. She runs her own apparel business where she hand-dyes hoodies, sweats, and more. She loves social media and works very well with it. Arielle enjoys writing food blogs and trending topics for The Gleaner!
Layout Editor: 
Tatyana Romero
Tatyana is a senior Graphic Design student with a Psychology minor. Her goal has always been to work in a creative field but graphic design especially caught her attention when she started university. In her free time, she enjoys listening to music and watching Netflix with her dog. She is a graphic designer for The Gleaner and helps create content for their website and social media.
Staff Writers: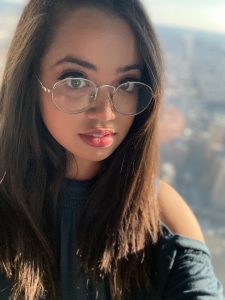 Maria Alcantara is a junior double majoring in English and Philosophy with a minor in writing. She hopes to be an editor and work in publishing after graduation. She loves writing about current events and anything relating to pop culture and the media. When she's not reading YA novels or writing stories, she's either making digital art for her Etsy shop or working a shift at the campus' Starbucks.
Raimondo Partito is a student athlete who plays for the men's soccer team. He is an English Major and anticipates graduating May 2023. Raimondo's interests have always been sports and film. He wishes to combine his passion for the 2 to evaluate their culture to share with others. He began writing for The Gleaner 1/2021 in hopes to gain experience and learn as much as he can about analyzing, reporting, and writing. He is interested in pursuing a career in the field of journalism and maybe even specializing in broadcasting.
Jochebed (pronounced Yo-kho-ved) is an international student from Nigeria. She joined The Gleaner team because she's always loved writing, but specifically wanted to explore her ability to write under the deadline conditions of a newspaper organization. So far, most of her articles have been centered around women's issues, such as the media's consistently harsh treatment of women and the legacy of the beloved Grease musical. You can check them out here.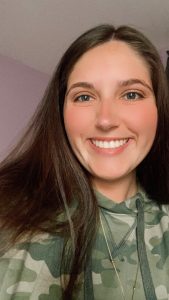 Abigail 'Abby' Richards is a sophomore at RUC who majors in English and minors in Communication. She is a South Jersey native and has a great interest in movies, television, & politics which she enjoys writing pieces about. This is her first year as a staff writer for The Gleaner.
Deja Watts is a Liberal Studies major and senior at Rutgers-Camden who hopes to pursue a career working for non-profit organizations. She uses her platform of writing for The Gleaner to bring attention to the issues of homelessness and domestic violence.  In her spare time, she loves to read novels, listen to music and binge watch reality TV.
David Parker is a senior in his last year here at Rutgers-Camden. He is an English major, specializing in writing. David's hobbies include sports and video games, but also going out when he can. Overall, he is a nice guy that is always looking for new ways to better his craft.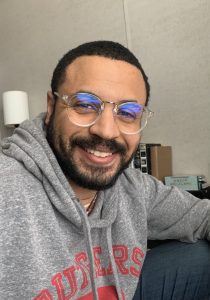 Matthew Gould is a Junior studying Philosophy and Religion at Rutgers- Camden. After graduation, he aspires to pursue a graduate degree with aspirations of becoming a novelist. Matthew is highly creative and typically sees the world in ways others do not. He writes about entertainment, current events, and more.
Additional Staff Writers: Yashira Caraballo and Hannyah Alford
Faulty Advisor:
Jill Capuzzo
Journalism Professor Jill Capuzzo serves as the faculty advisor to the Gleaner. She has been at Rutgers Camden for close to 20 years, teaching classes in journalism, communications and writing. As an active freelance journalist, she also continues to report and write on a regular basis for The New York Times, New Jersey Monthly Magazine and the Philadelphia Inquirer.  
Want to work with us? We are always looking for writers, photographers, graphic designers, videographers and social media experts. Email thegleanerruc@gmail.com in order to pitch an article or inquire about available positions.