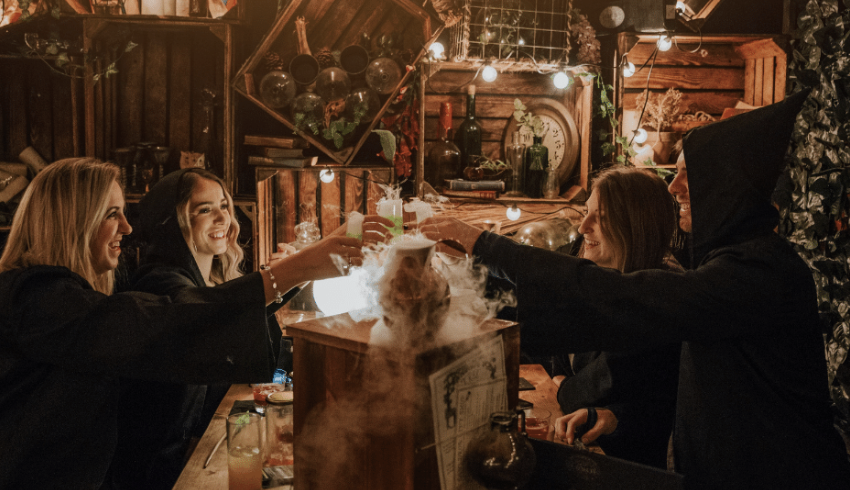 Read Time:
3 Minute, 25 Second
By: Anel Fajardo
Philly, the city of brotherly love, is known for its top hot spots, whether it be grabbing a classic cheesesteak from Genos or exploring a variety of eateries. The city has no limit to entertainment. 
From food to art museums, one can never be bored as there is always something going on.
Philly has made room for some magic as it introduces the Harry Potter exhibition at the Franklin Institute. 
The famous book series turned into a world-famous movie franchise has captivated audiences of all ages for decades. Its popularity only seems to grow with every generation. All the movies combined made roughly almost a trillion dollars in revenue. 
It was first announced earlier this year, the opening of a new exhibition. It would be open to the public starting February 18th through September 18th of 2022. 
The immersive experience truly brought the books and films to life, allowing visitors a glimpse into the wizarding world. With props and authentic costumes from the movies on display, guests got the chance to see the behind scenes design and wardrobe of the characters. 
If there is still time left, take a walk to the Cauldron located at 1305 Locust street, Philadelphia.
Philly's first-ever potions bar wizarding experience pops up. The bar has social distancing in place.  Reservations are required and you can buy tickets online at https://www.wizardexploratorium.io/. They do offer student discounts as well for only those who are above twenty-one and with a valid ID.
Grab a group of friends and dive into the wizardry world of the Cauldron. It offers an array of potion-inspired alcoholic drinks as well as mocktails. There are vegan and gluten-free options available upon request. 
Each ticket comes with a complimentary welcome drink, two molecular drinks which you can brew yourself, and a wand meant to be used for making your very own potions. It is $39.99 for both adults and children. With a student discount, it is $31.99.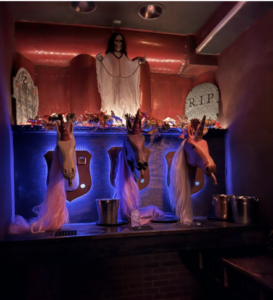 For this October, The Cauldron is having a Halloween-themed potion-making party where the drinks are spooky and delicious. The Potion making includes 1 glass of Prosecco or alcoholic or nonalcoholic HallowCream Cider, wand, Brew-your-own Drink 1: "Blood and Sinew", Brew-your-own Drink 2: "Lost Thyme" – Brewed in a Cauldron, Ectoplasm Shot (not included for kids), 1 drink poured by a magic wand, and all in a 1 hour and 45-minute interactive experience. It costs roughly $59.99 for adults, $49.99 for children, and $50.99 for students over 21 years of age.
I decided to see this wondrous place with my own eyes and sign myself up for the Halloween potions party. It truly was an immersive experience as both my friend and I were guided to the lower level of the building which was heavily decorated with whimsical objects hanging from the ceilings. It was as if I had stepped into the Wizarding world.
We began with our complimentary drinks then the night began as we were tasked to create our drinks for the evening. There are employees to help assist but primarily the guests were given written instructions and expected to work at our own pace. We first traveled to the main floor to get our second drink which was dispensed by a mounted unicorn head. That's right, a unicorn head. I was awed in amazement as I tapped my wand and out came a delicious red drink.
We continued making our potions which were all vastly different yet tasty. Fair warning: Please be advised that if you decide to choose alcoholic potions, they are quite strong. No drinking and flying.
They do offer other fun activities for the fall like pumpkin carving. It includes 1 pumpkin, carving tools, and your choice of alcoholic or nonalcoholic HallowCream Cider. It's $25 for adults and $20 for anyone under 21 years of age. I highly recommend journeying through Philly for this unique and fun wizarding experience. To all my witches and wizards, may you have a safe and happy Halloween.