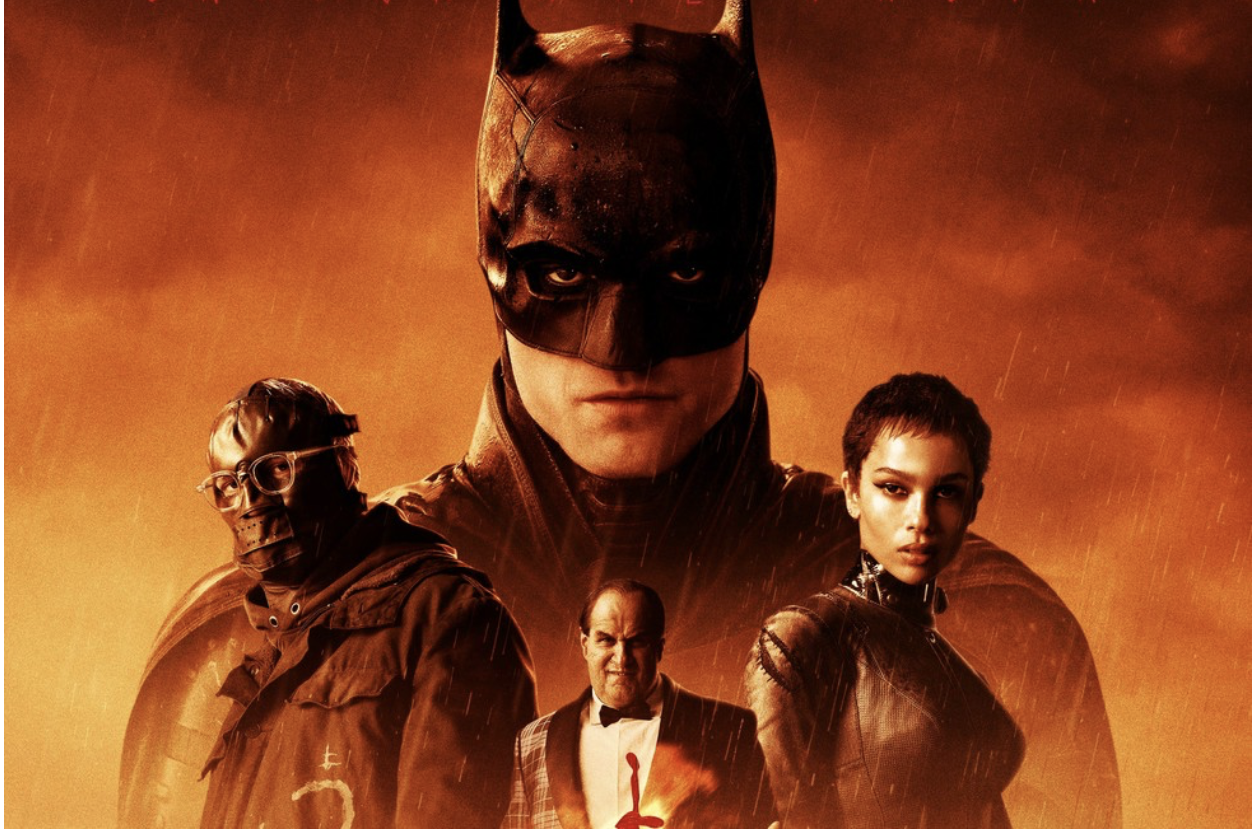 Read Time:
3 Minute, 18 Second
By: Maria Alcantara
The highly anticipated 2022 Batman movie has finally hit theaters and has viewers buzzing. Robert Pattinson, previously best known for his role as Edward from the Twilight franchise, has stepped into the shoes of Hollywood's favorite caped vigilante. Alongside him stars Zoe Kravitz as Catwoman, Jeffrey Wright as Commissioner Gordon, and Paul Dano as the Riddler. Directed by Matt Reeves, who has previously directed hit films like Cloverfield and Dawn of the Planet of the Apes, this film had quite the star power to take on a juggernaut of a job bringing back a Batman film after 10 years since its last solo movie. 
The Batman premiered at the Lincoln Center in New York on March 1, 2022, and was theatrically released worldwide on March 4th. It was delayed twice from an initial June 2021 release date due to the COVID-19 pandemic. Grossing over $714 million against a $185–200 million budget, this movie has become the highest-grossing film of 2022 and received numerous praises for its performances, cinematography, direction, action sequences, and story. 
The Batman 2022 is an American superhero film based on the DC Comics character Batman. In this latest depiction, a young Bruce Wayne ventures into Gotham City's underworld as a caped vigilante when a sadistic killer leaves behind a trail of cryptic clues for him to solve. As harmful truths begin to unfold that lead closer to home, he must bring justice to the abuse of power and corruption that has long plagued the metropolis. This mystery-driven film dives into the psyche of the Dark Knight as he's pushed to his limit in the early years of his crime-fighting career.
Some may say this film is a unique addition to the Batman movie collection, not only because it portrays Bruce Wayne in a different light than we're used to seeing, but it also focuses on Batman's detective side more than in previous films. For the first time in Hollywood, we are seeing a less-than-perfect version of Batman who still gets knocked around and doesn't pull his own punches.
While some may criticize the film for its runtime, one thing is for sure: Pattinson has proven himself to be a worthy Bruce Wayne, which is more than could be said of Ben Affleck's Batman. 
The development of the film began after Ben Affleck was cast as Batman in the DC Extended Universe (DCEU) in 2013. Affleck signed on to direct, produce, co-write, and star in The Batman, but had reservations about the project and dropped out. Reeves took over and reworked the story, removing the DCEU connections. Pattinson was later cast in May 2019 after campaigning for the role extensively. 
When Reeves was asked about his decision to cast Pattinson for the role, he says, "He also happens to be a tremendous, passionate fan of Batman, the way I am. So it was an incredible thing to be able to connect with him and share excitement about the character. He looks like Batman, but importantly, he has the soul of someone who can play Batman as you've never seen before."
When Pattinson was asked the same, he responded, "Even like five years ago, I was the last person I would think would be cast as Batman. I'm never normally in consideration for superhero parts at all. Usually [in those roles], you're either a total unknown or someone who just, I don't know, seems more obvious. I don't understand what it was about Batman, but I got really fixated on it and kept pushing my agent about it."
Though Pattinson may still be unsure of how he managed to land such a pivotal role in his career, one thing is for certain, whether you loved or hated this movie, you might be compelled to comment on it in some way. Here's what Rutgers-Camden students had to say about it: