Read Time:
1 Minute, 36 Second
By: Katie Travlos and Jasmine Yasay
Where: 57 Kings Hwy E, Haddonfield, NJ 08033
Type of Cuisine: Greek Bistro
Outdoor Dining: Yes
Delivery: No
Takeout: Yes
Hours: Sun-Mon 8 AM – 8 PM, Tues-Sat 8 AM – 9 PM
Price: $$
Rating: ★★★★☆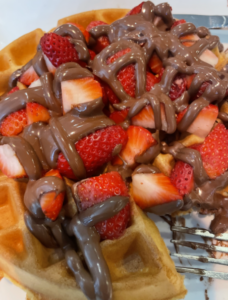 Summer is around the corner and the warm weather is finally here which calls for one thing— outside dining! At first glance, The Bistro at Haddonfield is swamped with customers lining up to wait for a seat outside the side patio. However, seating was no problem for us. The staff were swift with finding a table for three. Their outside seating is set up neatly and wraps around the corner to the side building with extra space for munching. Everyone can get a chance at dining outside to enjoy the warm weather. 
Rutgers-Camden is surrounded by many options of places to eat. There are many restaurants in Philadelphia, Cherryhill, Collingswood, Haddonfield, plus more that are only a short train ride or a drive away. If you're looking for a quick place to grab food in between classes with friends, or even by yourself, The Bistro at Haddonfield, is definitely the place to go. The Bistro at Haddonfield is located where the name states, in Haddonfield. It is a 15-minute ride away from school and stands on a corner of a strip of many other restaurants. After grabbing a bite to eat, you can walk around the numerous shops in the area. 
Once in the restaurant, your senses are filled with the delicious aroma of their food. They serve breakfast, lunch, and dinner so this restaurant will certainly satisfy even some of the pickiest eaters. 
We went for breakfast and ordered the strawberry chocolate shortcake Belgium waffle, the lox and Boursin bagel, and the Bistro omelet. For drinks, we ordered their staple, the mocha frappe. Our meal was yummy, the service was quick, and the company was great.