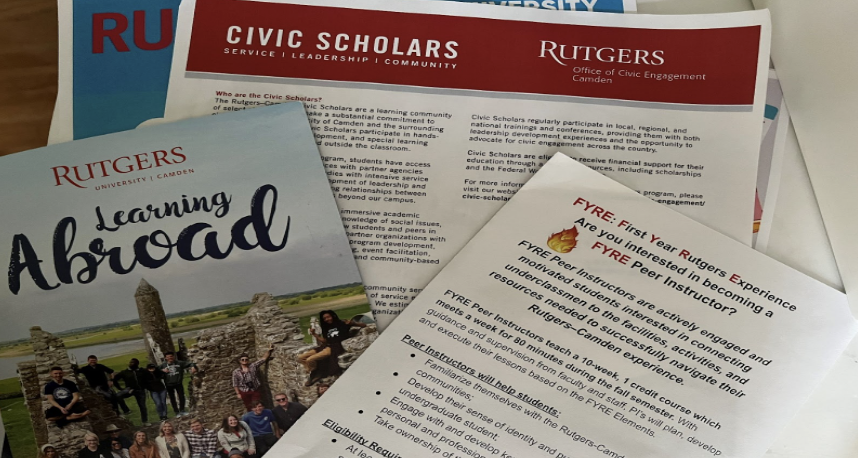 What you missed at the Experimental Learning Fair
Read Time:
6 Minute, 24 Second
By: Anel Fajardo
Hosted by the Chancellor's Experiential Learning Fund on October 27th, the event was open to all students interested in learning more about programs and classes surrounding their desired major. Located in the Multipurpose room, the space had numerous representatives from different programs like FYRE present.
FYRE is short for First Year Rutgers Experience in which students can apply to become peer instructors on campus, in which students will teach a 10-week, 1-credit course that is held once weekly for 80 minutes in the Fall semester. With the help and supervision of faculty and staff, the Peer Instructors will be able to prepare their lessons based on the FYRE elements.
Our Editor in Chief, Arielle Champion, is currently a Peer Instructor this semester. When asked about her experience, she stated " I think it's a great opportunity for students to learn hands-on and also become aware of all the great tools and resources available to them here on campus."
Eligibility Requirements: At least 54 and no more than 90 credits completed before the fall semester of 2023. A 3.0 or higher GPA is required and must be available to participate in summer training sessions. For more information go to https://fyre.camden.rutgers.edu/
For our Science majors, there are classes and research opportunities available. An Advanced Undergraduate course in Organic Evolution and a course-based Undergraduate Research experience. The first class is Bio 310 which meets Mondays and Wednesdays from 12:30 to 1:50 pm. It discusses adaptation and natural selection, quantitative genetics, macroevolution, and evolutionary medicine. It is a blend of lecture and discussion as well as standard evaluations like quizzes and exams. The course does require students to have prerequisites in both courses: General Biology II or Principles of Biology II. 
The second course is an EvooCure Lab (50:120:395) and is a hands-on research experience different from the ordinary lab. Students will have the opportunity to learn about experimental design, diagnostic PCR, and DNA sequence analysis. Corequisites are required to enroll as the student must take Evolution 50:120:310.
For Psychology and Health Sciences, there is open Dr. Kristin Augusts Relationships, Health, and Aging Lab (50:830:494/495 and 50:499:497) and Dr. Markey's Healthy Development Lab. The first focuses on social relationships/health, Chronic disease management, stress, and psychosocial interventions. Goals for the Lab is to become familiar with theories and methods associated with health psychology and gerontology. Students will be able to gain experience with different stages of the research process and improve their application materials for graduate school. 
Dr.Markey's lab focuses on body image, eating behaviors, and social influences on health. The goal of the lab is for students to gain experience with research, learn the latest science on body image, and get the tools necessary to apply for graduate school. For more information: https://markey.camden.rutgers.edu/healthy-development-lab/
There is also another course available for the spring semester, Applied Experience in Health Science with Jamie Dunaev. The class is meant to show students different options for their career like research training and or completing an internship. It is a hybrid course that meets on Tuesdays from 3:35 pm to 4:55 pm. It only has 20 spots available so act fast. For inquiries, email jamie.dunaev@gmail.com.
As I journeyed through the Multipurpose room, I wandered to the next stand of the School of Business which talked of the RSBC Pathway. Now you may be wondering, what is Pathway? It is an essential guide for students when it comes to keeping their journey straight through college. It not only keeps track of grades but captures all the attended events and tools learned to be career ready. The Pathway is made up of five pillars: RSBC Engaged Raptors, Career and Professional Development, Business Acumen, Global and Cultural Perspective, and Societal Impact. All of these activities are in hopes of developing important professional skills and networking opportunities for students.
An event from the RSBC Pathway under Professional Development is for any students interested in Film and Television in New Jersey. The guest speaker is Mr. Steven Gorelick, executive director of the NJ Film and Television Commission, who will be discussing the careers within the industry and sharing his insights about the topic. The event is on Thursday, November 10th from 12:30 pm to 1:45 pm in South BC.
The RUSE, Rutgers University Student Executive, is encouraging Rutgers-Camden undergraduates and 10th to 12th Grade students in South Jersey to participate in "changing the face of business". A chance for teams to compete in the Entrepreneurship Pitch Competition for awards and prizes. For more information: business.camden.rutgers.edu/ru-student-executive-program or contact the RUSE director, Dr. Oscar Holmes IV, at ru-se@camden.rutgers.edu.
School of Business has a monthly event open to students and alumni entrepreneurs for their Small Business Think Tank. This event allows both groups to network and learns from each other as students have the opportunity to develop a business plan and consult with experts in their field. For more information go to https://GO.RUTGERS.EDU/OQA2P2G.
If you desire to devote your time to providing a service to others, the Office of Civic Engagement is looking for Civic scholars who wish to have hands-on experience in making a difference in our community. This immersive program allows students to develop leadership skills, become knowledgeable of political issues, volunteer, and partner with organizations. For more information about the program, visit www.camden.rutgers.edu/civic-engagement/civic-scholars.
Now for the Arts and Sciences, there are internships and research opportunities available. The Career Center is offering a 3 credit course in which students are required to attend seven internship classes (3/summer) and complete projects assigned by their instructors. The student must complete a minimum of 120 hours for this internship. When completed, they will receive a General Education Elective credit. Students majoring in Biology, Childhood Studies, Criminal Justice, English, Foregin Language, Political Science, Sociology, Music, and urban studies can earn credits in their majors as well. For registration, go to https://cc.camden.rutgers.edu/handshake. If you have any questions please contact: careercenter@camden.rutgers.edu or visit their office located on the lower level of the Campus Center.
For English and Communication, they are offering research grants worth up to $1,500 and travel grants of up to $2,000. The deadline for research applications is September 30th, December 2nd, and April 28th. The faculty listed below are Research mentors so please contact them for information on research opportunities.
Dr.Jim Brown, jim.brown@rutgers.edu Associate Professor (Digital studies, Rhetoric, Ethics, Digital Culture, Media Archaeology), Dr. Bill FitzGerald, wfitz@camden.rutgers.edu Associate Professor (Writing studies, Rhetoric), Ms.Lauren Grodstein, lgrodste@camden.rutgers.edu Associate Professor(Fiction Writing, Memoir), Dr. Carol Singley, singley@camden.rutgers.edu Professor (Scholarly Editing, Edith Wharton), Dr. Jillian Sayre, jillian.sayre@rutgers.edu Associate Professor (Early National American literature and culture, hemisphere/ comparative literary studies (English, Spanish, Portuguese, and French), (Indigenous studies, literary Theory, Affect Theory, ecocriticism/environmental literature, Print history and history of the book, Horror in literature and film).
For more information, email research@camden.rutgers.edu or fasresearch@camden.rutgers.edu. 
Finally, to end my journey through the fair, there will be an event on November 1st from 12 pm to 2 pm for the Learning Abroad Fair. It will be located in the Scarlet Lounge in the Campus Center. It will be discussing several programs for various degrees available for the Spring semester.