Fall Book Recommendations
Read Time:
6 Minute, 35 Second
By: Maria Alcantara
It's no secret that college students oftentimes have busy schedules that leave them with barely any time to decompress. If you're a student at Rutgers-Camden, you might often find yourself juggling reading assignments, labs, papers, and just about any homework that leaves little agency for what you'd preferably consume for fun.
If you're someone in need of a momentary escape from the never-ending march of papers and articles, here's a fun list of books that will not only provide you with some enjoyment but will also get you in the fall mood!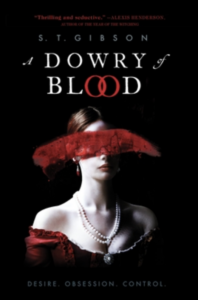 Dowry of Blood by S. T. Gibson
Genre: Horror fiction, Fantasy Fiction, Gothic fiction, Vampire literature
Number of Pages: 248 
Synopsis: A lyrical and dreamy reimagining of Dracula's brides, A Dowry of Blood is a story of desire, obsession, and emancipation. 
Saved from the brink of death by a mysterious stranger, Constanta is transformed from a medieval peasant into a bride fit for an undying king. But when Dracula draws a cunning aristocrat and a starving artist into his web of passion and deceit, Constanta realizes that her beloved is capable of terrible things. Finding comfort in the arms of her rival consorts, she begins to unravel their husband's dark secrets. 
With the lives of everyone she loves on the line, Constanta will have to choose between her own freedom and her love for her husband. But bonds forged by blood can only be broken by death.
The Paris Apartment by Lucy Foley
Genre: Thriller, Adult Fiction, Mystery
Number of Pages: 400 pages
Synopsis: From the New York Times bestselling author of The Guest List: Jess needs a fresh start. She's broke and alone, and she's just left her job under less than ideal circumstances. Her half-brother Ben didn't sound thrilled when she asked if she could crash with him for a bit, but he didn't say no, and surely everything will look better from Paris. Only when she shows up – to find a very nice apartment, could Ben really have afforded this? – he's not there.
The longer Ben stays missing, the more Jess starts to dig into her brother's situation, and the more questions she has. Ben's neighbors are an eclectic bunch, and not particularly friendly. Jess may have come to Paris to escape her past, but it's starting to look like it's Ben's future that's in question.
The socialite – The nice guy – The alcoholic – The girl on the verge – The concierge
Everyone's a neighbor. Everyone's a suspect. And everyone knows something they're not telling.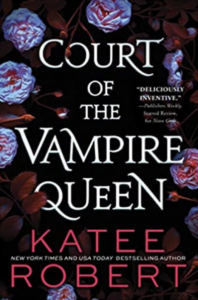 Court of the Vampire Queen by Katee Robert
Genre: Romance, Adult Fiction, Fantasy
Number of Pages: 496 pages
Synopsis: Three Powerfully Alluring Vampire Men And One Queen to Rule Them All
All Mina ever wanted was to escape her father's control. Half human, half vampire, she lived eternally torn between two worlds, never fully experiencing the pleasures of either—until her father chose her as the pawn in his latest political move, gifting her to the darkly powerful and dangerously seductive Malachi Zion.
Malachi is not a vampire to be trifled with. He rules with an iron fist and has a reputation for the darkest of sins. But the longer Mina spends with him, the more she realizes he's not the monster she first thought—and as fear bleeds into lust, then trust, then something more, Malachi opens Mina up to a world she never knew could be hers for the taking: including the love of Malachi's two closest friends and companions.
Now surrounded by all three men, the center of their shockingly seductive world, Mina may finally have the power to face down her father and take back the life—and crown—that by all rights should be hers.
Queen of Myth and Monsters by Scarlett St. Clair
Genre: Romance, Fantasy, Adult Fiction
Number of Pages: 432 pages
Synopsis: From USA Today bestselling author Scarlett St. Clair: Isolde, the newly coronated queen, has finally found a king worthy of her in the vampire Adrian. But their love for each other has cost Isolde her father and her homeland. With two opposing goddesses playing mortals and vampires like chess pieces against one another, Isolde is uncertain who her allies are in the vampire stronghold of Revekka.
Now, as politics in the Red Palace grow more underhanded and a deadly blood mist threatens all of Cordova, Isolde must trust in the bond she's formed with Adrian, even as she learns troubling information about his complicated past.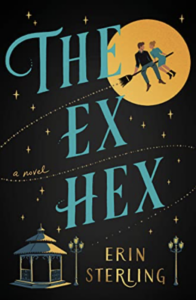 The Ex Hex by Erin Stirling 
Genre: Romance, Fantasy, Adult Fiction
Number of Pages: 308 pages
Synopsis: From New York Times bestselling author: Nine years ago, Vivienne Jones nursed her broken heart like any young witch would: vodka, weepy music, bubble baths…and a curse on the horrible boyfriend. Sure, Vivi knows she shouldn't use her magic this way, but with only an "orchard hayride" scented candle on hand, she isn't worried it will cause him anything more than a bad hair day or two.
That is until Rhys Penhallow, descendent of the town's ancestors, breaker of hearts, and annoyingly just as gorgeous as he always was, returns to Graves Glen, Georgia. What should be a quick trip to recharge the town's ley lines and make an appearance at the annual fall festival turns disastrously wrong. With one calamity after another striking Rhys, Vivi realizes her silly little Ex Hex may not have been so harmless after all.
Suddenly, Graves Glen is under attack from murderous wind-up toys, a pissed-off ghost, and a talking cat with some interesting things to say. Vivi and Rhys have to ignore their off-the-charts chemistry to work together to save the town and find a way to break the break-up curse before it's too late.
Legends & Lattes
Genre: High Fantasy, Queer, Romance 
Number of Pages: 318 pages
Synopsis: High Fantasy with a double-shot of self-reinvention
Worn out after decades of packing steel and raising hell, Viv the orc barbarian cashes out of the warrior's life with one final score. A forgotten legend, a fabled artifact, and an unreasonable amount of hope lead her to the streets of Thune, where she plans to open the first coffee shop the city has ever seen.
However, her dreams of a fresh start pulling shots instead of swinging swords are hardly a sure bet. Old frenemies and Thune's shady underbelly may just upset her plans. To finally build something that will last, Viv will need some new partners and a different kind of resolve.
A hot cup of fantasy slice-of-life with a dollop of romantic froth.
Long Live the Pumpkin Queen
Genre: YA, horror, fantasy, romance 
Number of Pages: 315 pages
Synopsis: Jack and Sally are "truly meant to be" … or are they? 
Sally Skellington is the official, newly-minted Pumpkin Queen after a whirlwind courtship with her true love, Jack, who Sally adores with every inch of her fabric seams — if only she could say the same for her new role as Queen of Halloween Town. Cast into the spotlight and tasked with all sorts of queenly duties, Sally can't help but wonder if all she's done is trade her captivity under Dr. FInkelstein for a different — albeit gilded — cage. But when Sally and Zero accidentally uncover a long-hidden doorway to an ancient realm called Dream Town in the forest Hinterlands, she'll unknowingly set into motion a chain of sinister events that put her future as Pumpkin Queen, and the future of Halloween Town itself, into jeopardy. Can Sally discover what it means to be true to herself and save the town she's learned to call home, or will her future turn into her worst… well, nightmare