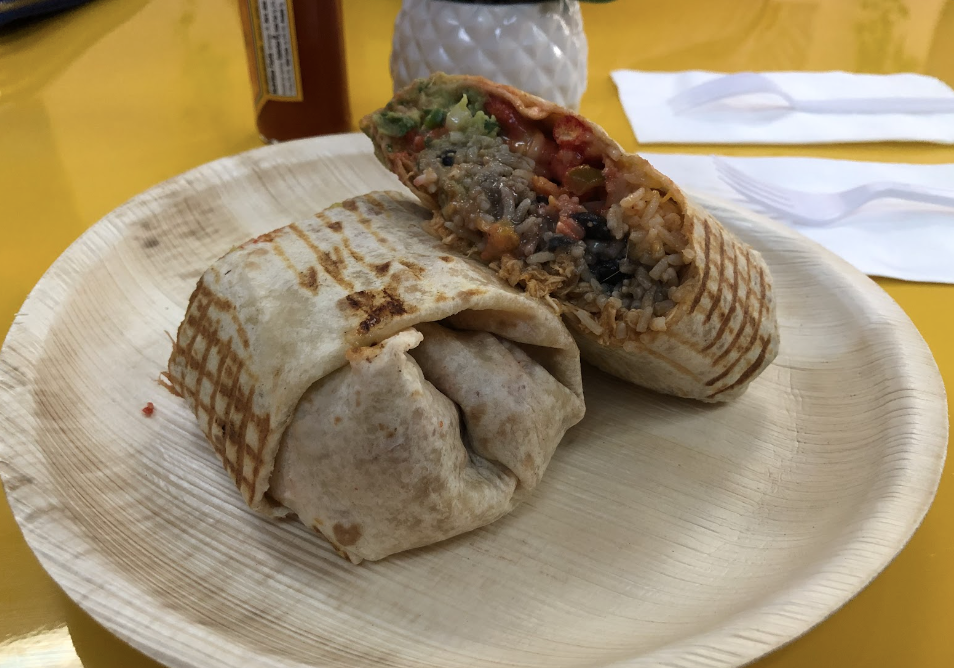 Latin-themed Sunpress a Vibrant Addition to Audubon's Downtown
Read Time:
2 Minute, 29 Second
By: Rory Ott
Local Audubon's NJ's Merchant Street has had quite the upswing in the past few years, miraculously bouncing back from a pandemic notorious for ravaging small businesses. The most recent addition to the small town's quiet main strip is Sunpress, a Latin-themed, fast-casual dining experience offering a wide variety of dishes including burritos, tacos, Cuban sandwiches, and freshly squeezed juice. Eager to interrupt the banality of chain restaurants like Chipotle and a  long-time resident of Audubon myself, I knew I had to check it out, and Sunpress did not disappoint. 
Vibrant decor greeted us when we walked in: bright yellow tables, walls decorated with various plants and artwork, and light panels reworked to look like a blue sky above. The rainy evening outside didn't stand a chance. We felt welcomed immediately, especially when Dar Soleymani–co-owner along with his wife, Elsie–came out to greet us with a huge, friendly smile on his face. Their family is well-versed in the business of food; his daughter, Sahar, owns two specialty restaurants along Haddon Ave (Dar's Steaks and Que Ricas), and they have a collective forty years' worth of experience. 
Intrigued, I ordered the Rincon burrito with chicken. It has most of the usual, gooey fixings you expect from a burrito, with the fun addition of hot Cheetos—and it was grilled, too, making it extra delicious. I wolfed it down, enjoying the crunchy contrast of the Cheetos next to the meat, beans, and cheese. Dar told us he's traveled all over Latin America and has since been inspired by the cuisine of Costa Rica, Mexico, Cuba, Nicaragua, and more; the loving attention to detail is evident. Interestingly, his daughter is also a chemist, helping to perfect the many unique flavor combinations on Sunpress's menu down to a literal science.
Those with dietary restrictions are easily accommodated, as well, with allowances for gluten-free, vegetarian, and even vegan diets (but be warned: the Cuban bread is made with lard, a no-go for vegans and vegetarians no matter how tasty). Most importantly, the food at Sunpress is filling, delicious, and reasonably priced. Squeeze in a side of ceviche or key lime pie for dessert, if you dare–you certainly won't regret it. Much can be said about the cozy ambiance, as well, and the friendliness of both owner and staff. We're so used to getting our food delivered, or picking it up and immediately heading back home, that I think we forget the reassurance of a good atmosphere.
The Soleymani family brings with them a warm, personal touch. Along with LesbiVeggies and Burger Time, two other unique restaurants closely neighboring Sunpress, Audubonites, and others in the area now have a great selection to curate from. I highly recommend ordering a smorgasbord of comfort food from any (or all three) before crossing the street to Red, White, and Brew for craft beers and hard seltzers.