Euphoria: Review and Debate
Read Time:
4 Minute, 7 Second
By: Abigail Richards
Unique and renowned television shows don't appear on television every day. Everyone has opinions, and some may find one show fantastic, while others may not enjoy the material the same way. However, since the start of its highly anticipated second season on HBO, Euphoria has truly captivated audiences worldwide.
 The series surrounds Rue's relationships with friends and family, meanwhile bouncing around each character and their ongoing situations or problems. While the second season is still premiering, the series was renewed for a third season. 
While portraying teenagers in high school, the show deals with drug use, sex, friendships, and the content has been referred to by fans as trauma-filled; this series handles these intense issues with care while also engaging the material by leaving cliffhangers at the end of each episode. While simultaneously releasing the promo for the next episode.
 With ratings that have jumped one hundred percent since the previous season, what is not astounding? Give this show a watch if you can. Despite the mature content warnings, its ratings speak for themselves and suggest this might be the show to watch this year! Director, Writer, and the show's creator, Sam Levinson, created a series that leaves audiences speechless and excited for what is next. 
With the stellar cast of young actors, the show's potential for greatness is only rising every week a new episode premieres. Zendaya, the show's protagonist, stars as Rue Bennett battling a severe addiction to multiple drugs. The show also features her friendships, romantic relationships, and events taken from her friend's point of view. However, the series has a unique setup. 
One of the characters is the set featured character for that particular episode; This sets the show apart from other shows because of this aspect and the depiction of rough teenage life. The series has gotten critical acclaim for its cast performances, cinematography, and a surprising approach to mature content, like sex and nudity. 
The first season, which premiered in the summer of 2019, featured Zendaya, an already known actress from Disney Channel and the Spider-man films, becoming the show's breakout star, which won her a Primetime Emmy Award for Best Actress in a Drama Series. 
This season's breakout star is Sydney Sweeney, who portrays Cassie Howard, Rue's childhood best friend Lexi's (Maude Apatow) sister. The second season revolves around Rue's relapse, meanwhile dealing with her strained relationships with her friends and family. 
Her relapse was emphasized in the fifth episode of season two, "Stand Still Like A Hummingbird," where Jules and Elliot (Dominic Fike) tell Rue's mother about her relapse by Rue's on-again-off-again girlfriend, Jules (portrayed by Hunter Schafer). 
Another massive storyline in the second season is the new romantic relationship between Cassie and Nate (Jacob Elordi), who had previously dated Cassie's best friend Maddy (Alexa Demie). However, this second season poses some serious questions about the characters themselves. 
Critics praise Euphoria for many reasons, like its character development, story, and cinematography. However, fans have questions on social media about how teenagers are portrayed. 
The severe exposure of nudity and sex has been noticeable this season compared to the previous ones. Some viewers have been questioning whether or not it is appropriate to be showing teenagers this way.
 Zendaya, star and executive producer released a statement after the D.A.R.E. drug campaign criticized the drug portrayal on the show. She then stated that their performance was not glorifying teenage drug use or addiction whatsoever. However, showing the same pain to others dealing with addiction is that they are not alone with their feelings. 
The actors on the show are all over the age of eighteen. Yet it begs the question, why are we oversexualizing the portrayal of teenagers. We've seen the main antagonist, Nate Jacobs, drinking alcohol and driving multiple times this past season. We've seen Rue become a pawn for a new drug dealer named Laurie because she cannot pay for drugs. 
Finally, we've witnessed fan-favorite drug dealers Fezco and Ashtray severely assault people multiple times. Premiering on HBO means Levinson created the series for mature audiences. Due to the content HBO has produced, Viewers already knew an adult warning to viewers. However, there is a fine line between an accurate portrayal and dramatization of real life.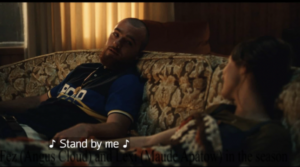 HBO surprised audiences with this show and has gained a significant following from young viewers. It leaves audiences on their heels, waiting for more content and great cliffhangers. With questions like "Will Lexi and Fez ever become an item?" "Will Rue get clean?" "What will happen with the Maddy, Nate, and Cassie relationship mess?" And finally, "What is going on with everyone's least favorite dad, Cal Jacobs (Eric Dane)?" Despite the show's hostile rhetoric, fans still feel Euphoria is worth waiting for episodes and fulfills our Sunday nights.