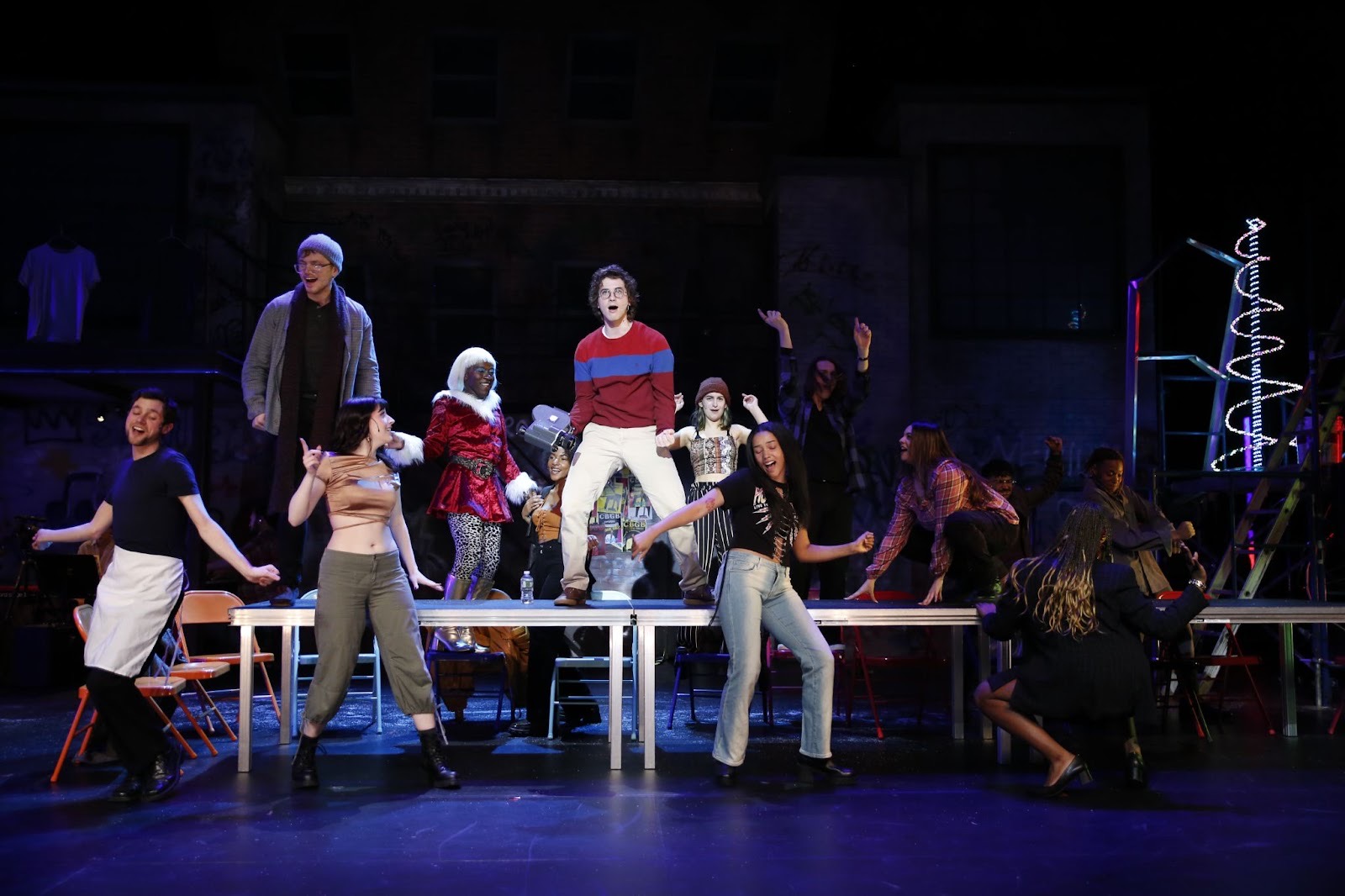 Rent Smashes into the Rutgers-Camden Stage
Read Time:
2 Minute, 8 Second
April 23rd, 2023
Directed by theater professor Kenneth Elliott, the hit broadway musical Rent was performed across multiple nights by the Rutgers-Camden theater company just last month. Over the course of two and a half hours, the enormously talented student cast tackled the classic story with grace, wit, and plenty of the rock musical's signature humor.
The story opens on Christmas Eve night, when we meet roommates Mark and Roger (played by Andrew Merkle and Cory Ryan Yhap, respectively). Mark has recently been dumped, Roger has recently been diagnosed with HIV, and to top it all off? Their heat has been shut off by their ex-friend-and-roommate-turned-landlord, Benny (played by Andy Amezquita). It's a bleak introduction to be sure, but the energizing titular number "Rent" serves to hearten the duo while setting the show in motion.
Rent takes place in Manhattan's disadvantaged East Village neighborhood in 1989: the tail end of a decade ravaged by the HIV/AIDS epidemic. Many of the characters, like Roger, are in fact positive for the deadly virus, including the charismatic drag queen, Angel (played brilliantly by Isaiah Dingle), who sadly succumbs to the disease at the climax of the story. It's a moment that threatens to break the ragtag group of friends, but they trudge on– for Angel as well as for themselves.
Mimi, a beautiful dancer suffering from drug addiction and her own HIV diagnosis, is played by Vivianna Aviles. Taylor Eccles plays Maureen, Mark's saucy ex-girlfriend as well as a performance artist and activist, while Chidinma Chukwueke plays her new love, Joanne, a Harvard educated lawyer. Collins, a philosophy professor living with AIDS who falls in love with Angel, is played by Nate Boyle. Other cast members include Paige Bates as Mrs. Jefferson, Nayeli Dejesus as Mark's mom, and Ethan Santi as Paul. Several members of the cast did overtime playing two or more roles. As for the much lauded musical score, my personal favorites from this performance were the animated "Rent," the romantic ballad "Light My Candle," and Mimi's rocky "Out Tonight."
A decades long classic for a reason, Rent bittersweetly retains its relevance as we once again battle the uncertainty of a pandemic along with soaring inflation. The cast's electrifying energy combined with the excellent live music and set design made for a great atmosphere and, overall, a fun night out. Congratulations to the cast, crew, and Professor Elliott for another great performance from the Rutgers-Camden theater!