Read Time:
5 Minute, 3 Second
By: Kaila Crozier
While people make 35,000 decisions per day, some of those decisions are bigger than others. Moreover, one of those questions that college graduates often struggle with is the BIG, what's next? What are you doing after you graduate from college? Do you have a job lined up? Are you planning on going to graduate school? How are you going to use your degree? And if you haven't been asked this question yet, you most likely will soon, but how you react and answer that question is up to YOU.  
Although graduating from college is a significant accomplishment in itself, it often leaves many college students with the challenge of figuring out the future. Moreover, it's hard for many post-graduates to figure out what they want to do after college, myself included. Notably, the COVID-19 pandemic gave thousands of college students a lot of time to think things through as colleges worldwide moved to virtual learning. This significant time away from the norm made many wonder, what now? How will this event alter the future? What do I do now? Is what I'm doing now what I want to do for the next +40 years of my life? When it came to graduating from college, it was excitement and fear that filled my hands as I received my diploma at graduation. Especially with my degree in my language (English), I was aware of the infinite possibilities that my degree held. And despite studying business management and leadership as my minors, I still needed to determine what my future held at this point.  
And despite the pandemic, the pressure from peers to figure out the future was still evident in my life. While many of my fellow classmates continued to post on LinkedIn about their recent jobs and discuss their plans for the future, I felt evidently stuck. But I had always wondered, am I the only one that feels this way? Recently, I discovered The ORCA Network, a social platform dedicated for college students to share their thoughts on current problems in the world. Moreover, the people within this community help each other by finding solutions. However, one of the problems that stood out to me was, "It is hard to figure out what I want to do after college." After reading this, I couldn't help to feel less alone about my current situation and hopeful for the future.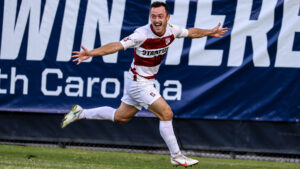 Recently, I had the pleasure of speaking with Charlie Wehan, the Co-Founder and CEO of The ORCA Network. Coming from the California coast, Charlie was a Stanford men's soccer team member and graduated from Stanford in May 2021 with a bachelor of science in science, technology, and society. After graduating from Stanford University, Wehan played professional soccer on the USL team, The Real Monarchs, in Utah for a season. While Charlie may have left competitive soccer, he didn't give up his passion for competition. Before playing professional soccer, Charlie started the ORCA network, and now he focuses more on helping the ORCA network expand to new heights. 
However, when it came to figuring out "what's next?," Charlie, like many other rising college graduates, struggled to find his fitting. When Charlie started at Stanford in the fall of 2017, Charlie had begun with the intention to graduate early. Charlie's curiosity soon blossomed as he learned from some of the best professors and met some amazing fellow classmates. Moreover, Charlie gained a great awareness of his surroundings which drove him to start the ORCA network. Yet, once the pandemic started and most universities moved online, Charlie and hundreds of other students began to struggle. Charlie started to grapple with his identity between online classes, lack of emotional interactions, and the unknowingness of the future. Mainly, Charlie still needed to learn what his next chapter held; was he still going to graduate early? Was soccer going to come back? What were the chances school was going back in person? Eventually, Charlie developed anxiety and had several nights where sleep was a struggle. While it wasn't easy, Charlie reached out for help in overcoming his anxiety. Between seeing a sports psychologist, cold showers, and practicing the Wim Hof method, Charlie felt his life gradually come back together. While it was challenging, it eventually paid off as his team could play the 2020 fall season in spring 2021 to become the Pac-12 Champions for that year. 
However, thanks to Stanford University's classes and resources, numerous opportunities, and supportive parents, Charlie was able to graduate in the Spring of 2021. 
While this is the story of just one post-grad, many others have felt the same way. But it's by talking about it and helping each other that allows us to get through the unknowingness and embrace the discomfort. When dealing with these feelings, any post-grad should understand that they are never alone. Moreover, Charlie discovered during the pandemic how important it is to take time with everything. From a personal perspective, I've learned that you must navigate post-grad life as a sailboat, not a speed boat. Often, sailboats are seen as drifting with the wind, following their flow, and those riding it have a chance to enjoy the stillness of the scene. But, it's speedboats that are often seen as racing through the waters anxiously waiting to get to their destination. Post-graduates need to take the time to understand themselves without the constant impeding pressures of peers. When I graduated from university, I slowly began to limit my time on social media. By limiting my time on social media, the speed of my life gradually slowed down. Yet, I felt my quality of life slowly rise. While it may be an adjustment to adopting a new schedule, lifestyle, or even an atmosphere, it's only a matter of time before you find your true passion and dreams. It may not be easy, but it will totally be worth it; be patient.  
If you wish to check out The ORCA Network, please click the link below;
https://theorcanetwork.com/leaderboard