A Taste of Italy: Dinner at Pirones
Read Time:
3 Minute, 5 Second
By: Arielle Champion
Restaurant: Pirones
Address: 1351 NJ-38 Ste B1, Hainesport, NJ 08036
Hours: Monday – Closed, Tues-Sat 10 AM – 9 PM, Sunday 12 PM – 9 PM

Price: $$
Website: https://cucinadipirone.com/
Phone: (609) 261-5200
Parking: Parking lot (free)
Reservation: Not needed
Rating: 5 stars
The air is colder, the sun sets earlier, and winter has finally come. It's the season of warm blankets and comfort food. If you're looking for food to warm you up, Pirones is a great place to dine and only a 30-minute drive from campus.
As I walked in I immediately noticed the setup of the restaurant. The dining area is a smaller intimate space decorated with art imported from Italy. The tables are covered in bright white cloth to top off the mood. As you're seated the waiter greets you with a basket of freshly baked bread served while you look over the menu.
Their menu is very large and includes almost every Italian dish you could think of. Whatever you're in the mood to have, they make it fresh from scratch daily. Father and son Mario and Mario run the restaurant with their family, eager to serve you delicious Italian cuisine.
As I opened the menu I didn't even know where to begin. Towards the top of the menu, their pizzas were listed. They have 10 different kinds of pizza including Vegetable Garden Pizza, Margherita Pizza, Lasagna Pizza, Rosemary Basil Pizza, Bacon Chicken Ranch, Pizza, Buffalo Chicken Pizza, Brooklyn Pizza, and Grandma pizza. Their most popular pizza is the Grandma, a Sicilian thin crust with mozzarella cheese, and plum tomato sauce, topped with garlic, olive oil, and basil.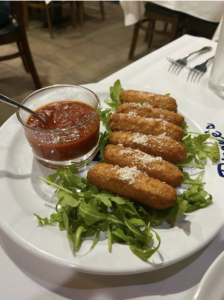 Their appetizers were exceptional, you could tell it wasn't pulled out of a freezer and just thrown in a microwave like most restaurants. I ordered the mozzarella sticks and fries and couldn't think of a single complaint. The mozzarella sticks were crispy on the outside and had melted cheese oozing from the insides. For an Italian restaurant, the fries were great as well.
Their pasta dishes are a hug in a bowl, bursting with flavor. Their menu includes over 15 different pasta dishes, if you're indecisive good luck! Their top pasta dishes are the Rigatoni, Baked Ziti, and the Fettucine Alfredo. The pasta entrees also come with a salad. I decided to go with the garden salad which had the largest croutons I had ever seen. It was delicious!
During my stay, we chose the Rigatoni Alla Vodka and the Fettucine Alfredo. Their Rigatoni is served with a creamy vodka tomato sauce and topped with plum tomatoes. The Fettuccine Alfredo was probably my favorite. The sauce was creamy and the chicken was perfectly cooked. They also shred fresh parmesan cheese on top, and as you mix your pasta the cheese melts in perfectly.
If you're not full after your meal, their dessert should be next on your mind. Their dessert list includes Cannoli, Cheesecake, Dark Side of the Moon, Tiramisu, Cinnamon Knots, and Pirone Delight. Their Tiramisu is a coffee-flavored dessert with lady fingers dipped in coffee, layered with a delicious mixture of eggs, sugar, cocoa, and Mascarpone cheese. If you're looking to treat your sweet tooth, their dessert menu will successfully do the job.
The next time you're searching for an authentic Italian restaurant, Pirones is the place. This restaurant is on the same level, if not even better than a place like Maggianos or Brio. The quality of the food and the cozy intimate dining room makes you feel you're in a little mom-and-pop restaurant right in Italy.