A Bite at a French Bistro
Read Time:
2 Minute, 56 Second
By: Arielle Champion
Restaurant: Bistro Du Jour
Location: 99 District Square SW, Washington, DC 20024
Hours: Sun – Thurs 8 AM – 9 PM, Fri – Sat 8 AM – 10 PM
Price: $$
Website: https://www.bistro-dujour.com/
Phone: (202) 984-7400
Parking: Street (meter)
Reservation: Not needed
Rating: 4 stars
Taking a trip to the White House or just passing through Washington, DC? This French Bistro is a must. This restaurant truly makes you feel as if you're sitting in a cafe right in France.
As I entered I was greeted with a warm welcome and kind staff. The first thing I noticed was their green velvet booths, gorgeous floor tiling, and stunning wall art which all added to the feel of a cafe in France. They even played relaxing music, I could get the sense of a casual ambiance and vibe of the restaurant.
The menu itself was detailed and aesthetically pleasing. During my stay, I ordered a range of items to get a true feel for the restaurant. The menu's first and largest section is the "Patisseries", the pastries. I ordered the Pain Au Chocolat which is their chocolate croissant. It was the perfect combination of flaky, light, and airy with chocolate oozing from the middle. As someone who normally gets their croissants from Starbucks, it was nice to enjoy a freshly baked croissant from a real french bakery.
To go along with my pastry I ordered hot chocolate, which was the only downside during my visit. France is known for their rich decadent hot chocolate, and being at a French Bistro I had high expectations. Their hot chocolate didn't have the rich cocoa flavor I anticipated and was also very watered down.
I let the waitress know and they were very accommodating. "I'm so sorry about the hot chocolate, let me take it back and have them remake it for you," said the waitress. The second time around it was less watery but had too much milk. I accepted that their hot chocolate was just going to be chocolate milk. The waitress was very kind and accommodating.
Despite the hot chocolate mishap, their brunch was nothing less than perfect. We ordered the Gaufres Belges, Americaine, and the Pain Perdu. The Gaufres are their Belgian Waffle with honey-syrup apples and this rich chantilly cream. The Americaine platter comes with eggs cooked any style, a croissant, bacon, and crispy fingerlings which are similar to breakfast potatoes. Saving the best for last, the Pain Perdu was probably the most delicious french toast I've ever ordered. It's brioche french toast, blueberry compote, and of course, their delicious chantilly cream. This is what one would call a "Breakfast of Champions".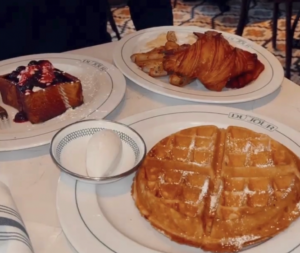 But this isn't just a restaurant, they also have a built-in bakery towards the back. As we were heading out, dessert was our toughest choice. My boyfriend and I decided on the chocolate cake which honestly made up for the hot chocolate. The chocolate cake was moist and fudgy, every single bite was perfect. We realized we should've gotten our own slices instead of sharing one.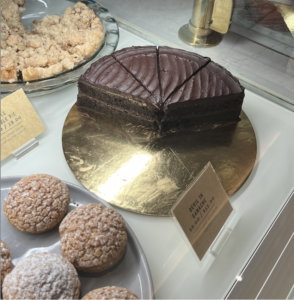 Overall, if you're in the Washington D.C. area and looking to grab a quick bite, Bistro Du Jour is a great option. From the stunning interior and the great food, the restaurant is a great choice when searching for places to grab a bite in Washington D.C. They have quality food, kind staff, and a comforting ambiance.