5 Ways Rutgers Students Can Help Ukraine
Read Time:
1 Minute, 5 Second
By Gia Lukaitis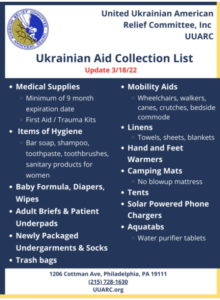 The war on Ukraine and the loss of innocent civilians has the world wondering, "how can I help?" As college students, it is not always possible to do what we wish we could to help, but there are some ways that are easily accessible. Here is a list of 5 things college students can do to help Ukraine.
Donate to the RUC Rotary Club. The rotary club on campus is collecting sleeping bags, common medicines, non-perishable food items, baby supplies, personal care items, and clothing. Donation boxes can be found in the campus center. 
Donate to

UNICEF

. UNICEF is taking any donation, big or small to help support Ukrainian children since schools and hospitals have been under attack. 
Start a drive for clothing, hygiene products, and basic necessities. The

United Ukrainian Relief Committee in Philadelphia

is accepting clothing and other basic necessities in Philadelphia, right outside of Camden. It can be as simple as starting a drive with your friends or just bringing any items you may have lying around your house. 
Donate to the

Ukrainian Red Cross

along with Rutgers Camden's SGA. 
Join Facebook groups in your community (or start one) to collect donations and items that can be sent to any of the previously mentioned organizations. 
0
0
On February 25th, The annual Polar Bear Plunge at Seaside Heights challenged over thousands of jumpers across the state to...
From fast feet to fast food, the energy at the Athletic Center was infectious as the raptors entered their evening...
By: Ayoub Saidi & Alexis Marini Last week on Tuesday, Rutgers-Camden faculty and staff members of the Rutgers American Association...
On February 17th of 2023, President Jonathan Holloway released a Budget Address to the University concerning the university's finances. A...
News of the development of a South Jersey LNG Export Terminal has been circulating on media platforms. The project will...