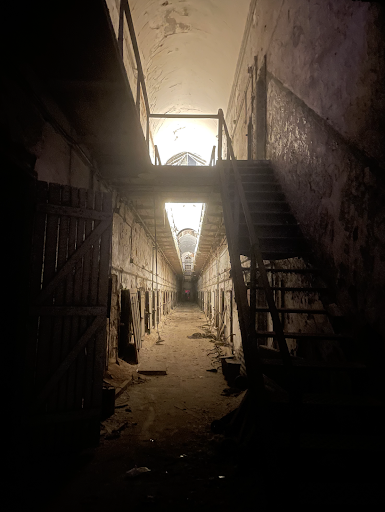 Read Time:
3 Minute, 3 Second
by Ryan Szanger and Katie Travlos
Looking for something to do this Halloweekend? Don't miss these Halloween attractions this spooky season. If you have already watched Hocus Pocus and made both a pumpkin and apple pie and are looking for something more to do to get in the spirit for Halloween, you've come to the right place. Here are five must-do Halloween attractions that are within an hour of campus. 
Linvilla Orchards and Johnson's Farm are two fall attractions that are sure to get you ready for Halloween. Linvilla Orchards is located in Media, Pennsylvania and is a quick thirty minute drive outside of campus. At Linvilla Orchards, you will find Pumpkinland which houses many different fall activities. These activities include hayrides, train rides, a corn maze, pony rides, apple blasters, and apple picking. Johnson's farm is in Medford, New Jersey, which is also a quick thirty minute drive from campus. Johnson's farm also has different fall activities along with their Harvest Festival. The Harvest Festival has live music, a festival food tent, a sunflower stroll, an animal farm, gem mining and duck races. 
If you are looking for a scare this Halloween, Eastern State Penitentiary, Fright Fest at Six Flags Great Adventure, and Creamy Acres Night of Terror are for you. 
Eastern State Penitentiary was a prison open from 1829-1971 located a few blocks away from the Philadelphia Museum of Art.  The Eastern State Penitentiary is open year round as it has daytime tours to explore the cells of the prison. However, during Halloween, the Eastern State Penitentiary transforms into a spooky attraction that has bone chilling scares around every corner. This attraction had trails that weaved in and out of the prison. If you are looking for extra attention from the scarers, this year red glow stick necklaces are available for thrillseekers. Although if this isn't really your style, you could just hang out in their Gargoyle Gardens for a much more relaxed atmosphere with performers and places to grab a snack. Either way, Eastern State Penitentiary should be on your list of places to visit this spooky season.
Fright Fest is a Halloween themed attraction located at Six Flags Great Adventure. Six Flags is a theme park that is an hour drive from campus. The entire park is decorated for Halloween with smoke machines and spider webs in every corner along with a giant bloody fountain right when you enter. Six Flags has multiple trails around the park and each had a different theme. From a haunted house, to clowns, to dinosaurs, to the woods, to bloodshed and lost limbs there is something to spike everyones' fright. Admission to the fright trails are not included in the ticket for the park, so be sure to purchase both tickets if you want to go on the rides and trails. 
Creamy Acres Night of Terror is the Halloween attraction you must go and see this Halloweekend. They are located in Mullica Hill, New Jersey and have all different kinds of attractions for you. They were ranked number two on the list of best places to celebrate Halloween in the northeast behind only Salem, Massachusetts! Something unique to them is that they have a haunted paintball hayride, where you and a group of friends can shoot mounted paintball guns at various props and live zombies. Along with this experience, they also have various haunted trails and other hayrides in settings such as playgrounds and cornfields that are sure to give you a night full of scares. If there is only one attraction you can go to this Halloweekend, it should be this one.