East Coast Eats: Chima's Steakhouse
Read Time:
2 Minute, 58 Second
Where: 1901 John F Kennedy Blvd, Philadelphia PA
Type of Cuisine: Brazilian eatery
Outdoor Dining: No
Delivery: Yes (Uber Eats, Postmates, Grubhub, and Doordash)
Takeout: Yes (Order pick up)
Hours: Mon-Thurs 5:30-9 PM, Fri 5:30-10 PM, Sat 4:30-10 PM, Sun 4-9 PM
Price: $$$$
Rating: ★★★★★
If you want to expand beyond your traditional restaurant experience, Chima's Steakhouse is the place to dine. Located a few minutes from the Ben Franklin Bridge and only about 15 minutes from campus, it's a simple drive. 
Normally when you visit a restaurant, you look at the menu and tell the server what you'd like. At this upscale restaurant, things are slightly different. When you're seated at your table, you're given a small circular card and a small pair of tongs. One side is orange and reads "yes please" while the other is black and says "no thank you". This card lets them know whether or not you want to be served.
About 15-30 employees consistently walk around the restaurant carrying large dishes of meat. If your card is flipped to the orange side, the Gauchos will continue to bring fresh churrasco (the Portuguese name for grilled meat). The Gauchos are what the restaurant calls the men who serve the different styles of meat and they always have a warm smile on their face whenever they arrive at your table. 
When a Gaucho approaches the table, they hold the tray of meat in one hand and a large knife in the other. They ask how you like it done: medium-rare, well done, etc. After you tell them your preference, they slice the meat with ease and you use your tongs to grab it. 
The meat selection is extremely large compared to most restaurants. With over 15 different options, they offer top sirloin, filet, ribs, lamb, pork, chicken, sausage, and even fish. The meats are cooked and served as soon as they're done on the grill. The different meats arrive at your table sizzling and smoking and grilled to perfection. 
Along with the meats, the waiter brings out a small selection of Brazilian appetizers as well as creamy mashed potatoes. There is also a large salad bar offering salads, cold cuts, cheeses, soup, and other traditional Brazilian sides such as black beans and rice.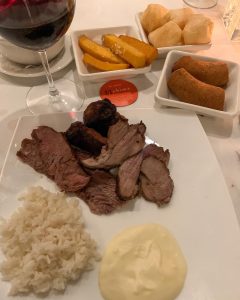 Not only is the food astonishing, but the restaurant is as well. When you walk through the large revolving door, you're met with high ceilings and a stunning ambiance. From the abstract art to the neutral color scheme, this restaurant is beyond aesthetically pleasing. Dining in such a visually beautiful setting requires a certain attire. Chima's asks that its guests arrive in business casual wear and leave loungewear and shoes such as flip-flops at home.
The restaurant follows all COVID guidelines and heavily enforces the use of masks and social distancing. Before the pandemic, the salad bar was self-serve and guests were allowed to fill their plates on their own. Now, a waiter stands at the front of the salad bar with plates and grabs the food for you while wearing gloves and a mask. The space is large which helps to spread out the tables creating the appropriate distance between guests.
If you're looking to get a little dressed up and stray away from your regular restaurant visits, Chima's Steakhouse is heavily recommended. As Mother's Day approaches, it would be a great idea to wow your mom with this beautiful restaurant.