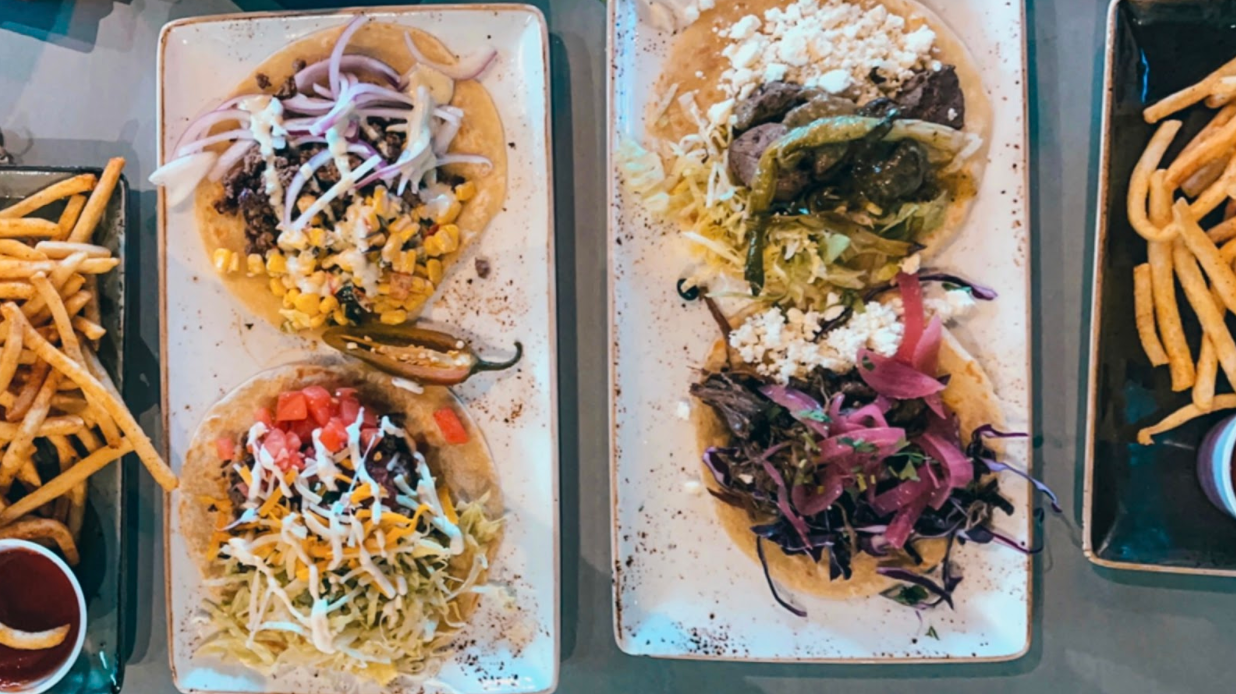 East Coast Eats: Tio Taco and Tequila
Read Time:
2 Minute, 16 Second
Where: 1003 US-1, Edison, NJ 08817
Type of Cuisine: Mexican
Outdoor Dining: Yes
Delivery: Yes
Take Out: Yes
Hours: M, T, W, F, S 11 am – 10 pm, Thurs 11 am – 11 pm, Sun 11 am – 9 pm
Price: $$
Rating: ★★★★★
Quesadillas, tacos, fajitas, and all the above. If you want authentic Mexican food, Tio Taco and Tequila is the place to dine at. Located in Edison, NJ, Tio Taco and Tequila is a  newly opened taqueria located right off the highway.
The restaurant strictly follows COVID guidelines and provides a safe atmosphere for its customers. Not only is it a safe environment but also a comfortable one. Inside, they offer booths, high tables, and seats around the bar. For those who prefer outdoor dining and are willing to brave the cold, they have two outdoor patios with a fireplace and heaters surrounding the entire area. No matter the weather, there's a place to sit. 
You'll get to eat comfortably and also have a large selection of famous Mexican dishes to choose from. Their menu has ten different tacos, seven fajita selections, nine appetizers, and so much more. Whether you want spicy, tangy, or sweet, there's something to satisfy your taste buds.
Their most popular tacos are the Baja shrimp and the carne asada tacos. The Baja shrimp taco comes with your choice of blackened or fried shrimp, cabbage, pico de gallo, ranchero aioli, and lime crema. The carne asada taco is stuffed with steak, lettuce, green onion, tomatillo salsa, and queso fresco. 
During my visit, I ordered the popular carne asada tacos as well as the short rib tacos. Each of the tacos had a distinct flavor and was definitely worth the $14. The steak and ribs were cooked well done but still maintained a moist and tender texture. The mixture of different veggies and spices combined perfectly to compliment the meat used in each taco.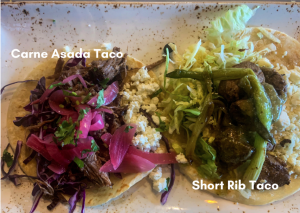 While Tio's tacos are delicious, if you're not in the mood for tacos or quesadillas, their wings are the best option. The wings are marinated in a sweet chipotle honey glaze with avocado crema and ranchero aioli drizzled on top. You can make it a full entree by adding a side of their fajita fries. The fries are thin and crispy with a fajita seasoning sprinkled on top.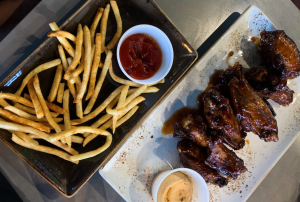 This Mexican restaurant should be on your list of places to eat at. From the beautiful indoor setting to the unique menu, Tio Taco and Tequila is the perfect place to grab a bite to eat. Not to mention there's a Top Golf right next door making it great for a night out with friends.