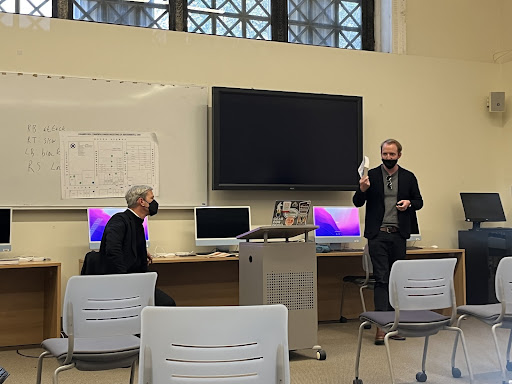 First Modern Day Mass Shooting
Read Time:
4 Minute, 17 Second
The Digital Studies Center organized a discussion called Telling True Stories with its key speaker being Matt Fulton, BA/MA alum, filmmaker, and author of several books. He is currently working on a film that tells the story of the 1949 mass shooting in Camden. Matt was joined by Dr. Robert Emmons, a documentary filmmaker and head of the filmmaking program here on campus. They talked about challenges and resources to nonfiction storytelling and filmmaking. The event took place November 15th at the Digital Commons.
Mr. Fulton began discussing the 1949 mass shooting that happened right here in Camden. A World War II veteran, Howard Unruh, killed 16 people in Camden with a German pistol during a twelve minute walk. They played a historic film reel of the crime that showed the scene of the crime and the murderer being taken away for psychological evaluation to Cooper Hospital. The reel followed with testimony from several eyewitnesses with one stating, "The murderer was very calm and collected, not once ran."
Inside the life of Howard before the shooting, he was secretly gay and had numerous relationships with men during his stay at a boarding house. The summer before the shooting he was dating a man named Van. There is no other information about Van besides his first name. The Night before the shooting, Howard was supposed to meet him at a theater but Van stood him up. He stayed for a few movies then later on went home. The next day he attempted to kill his mother with a knife then proceded to continue on his murder spree.
Picture of A Dark Horse Comic Issue #23 of Gateway to Hell: the Howard Unruh Story
Now Mr. Fulton's first discovery of the case, he was at a family party and a family friend, Paul, approached him and said casually that the first mass shooting was in Camden. This caught the attention of Fulton, his friend then continued on recounting the details of the case.
Difference in approach to film making on this project, Matthew wanted to write a screenplay about the crime. Researching the story which then required him to look into all the police records and news clipping. Mostly all the information he used in his research was all in writing as the records were not digitized. His approach to creating the screenplay was to not only be authentic but to understand "it's not what's wrong with you but what happened to you?"
Both Mr. Fulton and Dr. Emmons discussed the ethics about telling true stories. Fulton on the subject said, "I am figuring it out as I go along when it comes to ethically documenting this story." Fulton acknowledges that he does make up some parts of the story when it comes to Howards' day to day as long as it does not contradict a historical record. He says "I am writing about people who died violently. I want to write to keep it as authentic as possible."
Fulton referenced the new Jeffrey Dahmer netflix show. He believed "it is a prime example of what not to do." Wrestling with this idea of being true yet neutral is difficult when it comes to storytelling. In the Dahmer series, the protagonist is somewhat given redeemable qualities which distracts from the crime the culprit has committed. He had an issue with this portrayal of Dahmer. With memes and news covering the new show, Netflix recently came under fire for labeling the show as an LGBTQ+ story because it portrays gay men in a bad light. Fulton believes having that label is not a bad thing as it is a part of Dahmer's story and "we should not pick and choose what representation is out there."
Going back to the Howard case, Fulton noted there seems to be no key reason for the attack. It seems Howard was upset about his gate being damaged the night before after his date stood him up. He did add that one of his victims was the wife of Thomas Cohen and some members of his family. It was known that Howard had issues with Thomas and went into his pharmacy looking for him. A survivor of the attack was a 13 year old Charles Cohen who hid in a closet.
What was interesting is his sexuality was not publicly reported yet his psychological records discussed his first gay experiences with a cousin. Below is a copy of the records of his psychiatric evaluation.
One of the attendees asked, How do we separate the killer from the man? Fulton's approach is to show the feelings of Howard and his struggles with accepting his sexuality. By not focusing on all the bad but the life before the attack, this allows a full picture of the subject instead of a narrow view. It is not meant to pity the subject but to provide the facts and the truth of the individual.
This event is the last of the alumni speakers for the semester. For more information on upcoming spring events, please follow the English Department page on the Rutgers website.