September 
    Monday          Tuesday       Wednesday     Thursday           Friday           Saturday          Sunday 
20)

21) 

Men's Soccer vs Immaculata University (Away) @7pm

Women's Soccer vs Messiah University (Away) @7pm 

Women's Volleyball vs Stockton University (Home) @7pm

22)

23)

Women's Volleyball vs Drew University (Home)@7pm

24)

25)

Men's Soccer vs Kean University (Away) @1pm

Women's Soccer vs Kean University (Home)@1pm 

 

26)

27)

28) Women's Volleyball vs Ramapo College (Away)@7

29) 

Men's Soccer vs Stockton University (Home)@7

Women's Soccer vs Stockton University

(Away)@7

30)

 
October 
 Monday            Tuesday               Wednesday                Thursday       Friday     Saturday           Sunday
 

 

 

 

1)

2)

Men's Soccer vs William Patterson University (Away)@1pm

Women's Soccer vs William Patterson University (Home)@1pm

Women's Volleyball vs Marywood University (Home)@11am

And 

United States Merchant Marine Academy (Home)@3pm

3)

4)

5)

Women's Volleyball vs New Jersey City University (Home)@7pm

 

6)

Men's Soccer vs Haverford College (Away)@7pm

Women's Soccer vs Goucher College (Away)@7pm

 

7)

Women's Volleyball vs Penn State Brandywine University (Away)@7pm

 

8)

9)

Men's Soccer vs Ramapo College (Home)@1pm

Women's Soccer vs Ramapo College (Away)@1pm

Women's Volleyball vs Elizabethtown College (Away)@1pm

And 

Messiah University (Away)@3pm

10)

11)

12)

Women's Volleyball vs William Patterson University (Home)@7pm

13) 

Men's Soccer vs The College of New Jersey (Away)@6:30pm

Women's Soccer vs The College of New Jersey (Home)@7pm

14)

Women's Volleyball vs Rowan University (Away) @7

15)

16)

Men's Soccer vs New Jersey City University (Home)@1pm

Women's Soccer vs New Jersey City University (Away)@1pm

17)

18)

19)

Women's Volleyball vs Kean University (Home)@7pm

20)

Women's Soccer vs Ursinus College (Home)@7pm

21)

Men's Soccer vsAlvernia University (Home)@7pm

Women's Volleyball vs Gwynedd Mercy University (Away) @7pm

22)

23)

Men's Soccer vs Rutgers-Newark (Away)@7:30pm

Women's Soccer vs Rutgers-Newark (Home)@1pm

Women's Volleyball vs Alvernia University (Away)@11am And

Brooklyn College (Away)@1pm

24)

25)

Men's Soccer vs Penn State Abington (Home)

@7pm

26)

Women's Volleyball vs Rutgers- Newark (Away)@7pm

27)

Men's Soccer vs Rowan University (Home)@7pm

Women's Soccer vs Rowan University (Away)@7pm

28)

29)

30)

Women's Volleyball vs Wilkes University (Away)@11am

And

Alfred University

(Away)@1pm

31)
Our Men's Soccer team is currently 4-2-2 and are set to take on Stockton University at 7:00pm September 29th under the lights at Rutgers-Camden Community Park. 
Parker Soloway, the current captain, believes the season has had it's ups and downs, but is still hopeful. "Battling against 5 of the top teams in the country has shown us what we need to work on, but also how good we can be. We're still searching for a rhythm and personality to our team, but once it clicks, we will take off. We can all see the potential, we are just trying to get the right pieces put together, in rhythm, to reach our ceiling," said Soloway.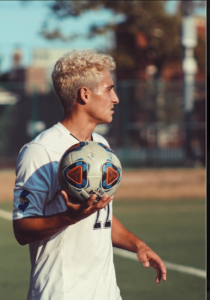 Our Women's Soccer team is currently 1-5 where they look to turn things around and play Kean University at home at September 29th 1:00pm for their first NJAC Conference game. 
"Though it's not the start that any team wants or expects, the fight and hunger in us is still there. A team, when faced with adversity, can either sulk in it and point fingers or they can be there for each other and face it head on together. Right now, we are learning to stay positive and come together as a family and push through which is what makes and builds a strong team. We know and have seen what we are capable of, and it'll take one game and one win to turn everything around for us. One match can start a fire," said Breana Winder, the current captain.
Our Women's Volleyball team is 7-4 where they look to keep the three-game winning streak alive against Drew University at home at 7:00pm September 23rd. Senior captain Delaney Kolb doesn't think the buck stops at winning. "This season so far is probably the best we've played yet and has been the most competitive and talented team I've seen from us thus far. Winning against teams that have beat us in the past has shown us what we're capable of and what we bring to the table this year. If we keep working hard, trust each other on the court and find trust in ourselves to make smart plays, we're gonna be unstoppable," said Kolb.