The Pandemic Season for RUC's Women's Volleyball
Read Time:
2 Minute, 58 Second
by David Parker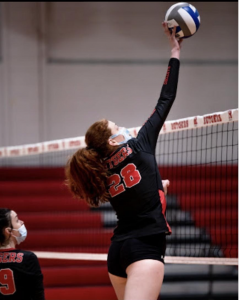 As the spring semester started up in 2021, spring season sports for Rutgers Camden also started up their seasons. One of these sports was the Women's Volleyball Team. They did not have a fall season due to the pandemic rolling out, but they were ready to tackle the spring season with a new challenge, getting through an entire season while dealing with the pandemic. In this spring season, the team would go through 5 regular-season games, and if they did well enough, they would move on to the playoffs. Of course, there were restrictions that teams had to follow for players and staff to stay safe for the duration of the season. Masks had to be worn at all times, even if you are on the court and playing, and social distancing measures for both teams were enforced as much as possible. In addition to these challenges, half of the Scarlet Raptors were absent. Many players could not play this season due to travel issues. Some lived too far to commute to Rutgers and back home every day. However, the most significant challenge faced by players was isolation. They had to quarantine themselves from members of their household and limit the number of people they saw. Family members and loved ones in these player's lives were now kept at a distance.    
For Devyn Cobb, she was ready to make a comeback after suffering an injury back in the 2019 season, but little did she know a pandemic would sweep the world and it would be almost two years before she would play again.  
In 2019, before her injury, Devyn led the team with 40 blocks, which spiked her career total to 64 blocks, making her 14th in blocks all-time for Rutgers-Camden Women's Volleyball. She also finished 4th on the team that season in kills, having 172. 
After suffering a high sprained ankle from landing on an opponent's foot instead of the ground, the next step was to start the healing process and strengthen her ankle to play again. Overcoming the obstacles of healing and recovery, she became ready to make her comeback this season in the spring. Though, according to Cobb, "It was difficult, not because I was still hurt, I was just terrified of stepping on someone again because it would have hurt so much more."
Facing her fears, she began her comeback season this spring in 2021 since Rutgers-Camden Women's Volleyball did not have a fall season because of the pandemic. As she started going to practices, she also spent time in physical therapy to continue the process of strengthening her injured ankle. Now in her comeback season, Cobb had to face another challenge: playing volleyball during the COVID-19 Pandemic. 
Even with all of these challenges that she had to face with her team, the Scarlet Raptors managed to get to the playoffs this spring. Despite losing in the semifinals against the excellent Stockton University University Ospreys. They gave it their all every single game and had a successful season. The team finished 3-4 on the season, including the playoff first-round win and the semi-finals loss.   
"I am happy with how this season turned out," Cobb said. "We did really well, and we overcame. People that worked Saturdays when we had Saturday practices put in their time. We had a COVID scare that involved us missing another player, and we got through that struggle. I am glad that we stuck through, and we did what we could."