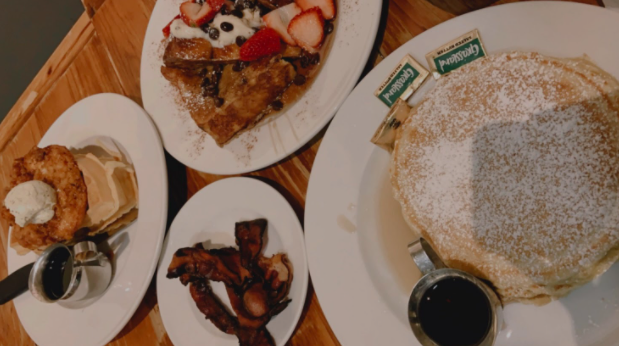 East Coast Eats: Sabrina's Cafe
Read Time:
2 Minute, 19 Second
By: Arielle Champion
Where: 714 Haddon Ave, Collingswood, NJ 08108
Type of Cuisine: American/brunch
Outdoor Dining: Yes
Delivery: No
Take Out: Yes
Hours: Sunday – Thursday 8 am – 3 pm, Friday – Saturday 8 am – 8 pm
Price: $$
Rating: ★★★★☆
French toast, fried chicken, pancakes, burgers, and everything brunch-related. This is what you will find at Sabrina's Cafe in Collingswood,  one of the chain's five locations in the U.S., and this one is only eight minutes from campus. This cafe is perfect for a quick meal in between classes.
Sabrina's offers up a safe atmosphere whether you're dining in or just picking up. They're constantly disinfecting surfaces and always wearing masks. The staff is kind and extremely welcoming as soon as you enter.
For those dining in, there's no need to worry about being situated too near other guests. Everyone is seated at least two tables apart and they even have another dining area if it becomes too crowded.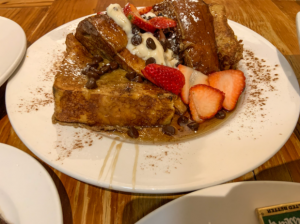 The restaurant is best known for delicious breakfast options and the menu seems endless. Sabrina's Cannoli French Toast is served with sweet cannoli cream, whipped cream, and thick vanilla bean syrup. Of course, if you want to add extras, they will gladly do so. As soon as you bite into the french toast, you get a mixture of warm bread, cinnamon, sweet cream, and rich syrup. 
Every restaurant has its version of the classic pancake. Sabrina's Cafe takes full advantage to turn a simple stack of pancakes into something almost heavenly. Their buttermilk pancakes are light and fluffy and are served with powdered sugar and cinnamon. Their decadent vanilla bean syrup and buttermilk pancakes come together beautifully.
Saving the best for last, the restaurant's chicken and waffles is sublime. A dish so simple, Sabrina's managed to transform it into something entirely unique. This entree is served with a buttermilk fried chicken breast on a waffle that's slightly crispy on the outside and soft on the inside. It also comes with a herb butter spread perfecting the sweet but salty flavor. 
If you're not in the mood for breakfast, the lunch portion of the menu will only amaze you even more. The beauty of brunch is being allowed to eat fries and burgers at 11 in the morning. Among the lunch options are a buffalo chicken sandwich, build your own burger, and Jerk shrimp tacos. 
Whether you're craving breakfast or lunch, Sabrina's Cafe is a must. Not to mention how picture-perfect all the dishes are. You'll get the ultimate experience and beautiful food to snap pictures of. Overall, this restaurant is a stunning place to grab a bite to eat no matter what you're in the mood for.